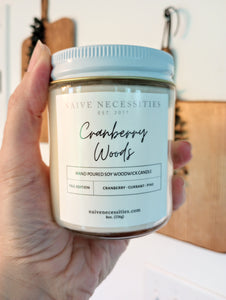 Experience the soothing ambiance of our natural Woodwick Candle, expertly crafted with clean-burning soy & coconut wax and infused with the finest botanical extracts and distillates. Our eco-friendly candle offers a long-lasting burn that enhances your space while promoting relaxation and enjoyment.
Features:
Clean-Burning Wax: Made from 100% natural soy & coconut wax, our candle produces minimal soot and is environmentally friendly
Woodwick: Enjoy the gentle crackling sound of a wooden wick, reminiscent of a cozy fireplace
Pure Botanical Scents: Immerse yourself in the delightful scents derived from pure botanical extracts, distillates & essential oils
Long-Lasting: Each candle has a generous burn time of 40+ hours, providing hours of aromatic enjoyment
Handcrafted: Our candles are hand-poured in small batches for quality assurance
Scent Options:
🍂 Toasted Pumpkin Spice: Clove, Cinnamon, Nutmeg, Pumpkin, Vanilla
🍂 Falling Leaves: Citrus, Cinnamon, Apple, Berries, Pecan, Cedar
🍂 Cranberry Woods: Cranberries, Currant, Pine, Fir, Vanilla
🍂 Candied Apple: Crisp Apple, Cinnamon, Nutmeg, Carmelized Vanilla
❄️ Christmas Hearth: Orange Peel + Cinnamon + Pine
❄️ Peppermint Mocha: Coconut Milk + Peppermint + Vanilla
❄️ Woodland Snow: Mint + Sage + Juniper Berries
❄️Gingerbread House: Ginger + Molasses + Chestnut
Ingredients: 100% natural soy/coconut wax blend, wooden wick, botanical extracts/distillates and essential oils
Directions for Use:
Trim wick to 1/4 inch before lighting.
Allow the candle to burn until the entire surface is melted to prevent tunneling. (Approx. 4 hours)
Enjoy the crackling ambiance and soothing aroma.
Safety: Always burn within sight. Keep away from children, pets, and flammable materials. Burn on a heat-resistant surface. Trim wick to 1/4 inch after every burn. Do not burn for more than 4 hours at a time.
---